Discover more from Bank on Basak
A weekly newsletter that attempts to simplify the Indian BFSI space.
Over 4,000 subscribers
#10 Please lend?
Weekly Report: 27th-31st July.
When our Prime Minister met a few bankers…
Banks should not treat all borrowers in the same way - essentially, they should proactively identify "bankable proposals" so that they get funding based on merit and not be shooed away due to past NPAs (easier said than done)

Small entrepreneurs and farmers should be motivated to use bank's funding (they generally borrow informally)

Banks should adopt fintech for digital acquisition of customers, lower costs and reduce frauds (I absolutely agree with this; most banks still rely on archaic infrastructure)
Assurances on cash flows from projects, especially from the infrastructure side (this is the counter-point to 1 above)

Data on GST, income tax and credit history (from CIBIL) are currently available only separately and should be aggregated into one platform by the government so that small borrowers can be evaluated faster! (counter-point to 2)

Banks want the Government to adopt fintech as well! 😅 Essentially, they want it to build one app which will list ALL the existing government schemes so that customers can choose the one he is eligible for and directly apply to the bank of his choice. Neat!
But if NaMo thinks banks are not lending…
---
Then where are banks keeping their money?
Apparently, in government and corporate bonds!
Bloomberg has analysed Q4 results of 13 banks and found that their investments have increased 8.6% while loans fell 1.5%! (over 3 months)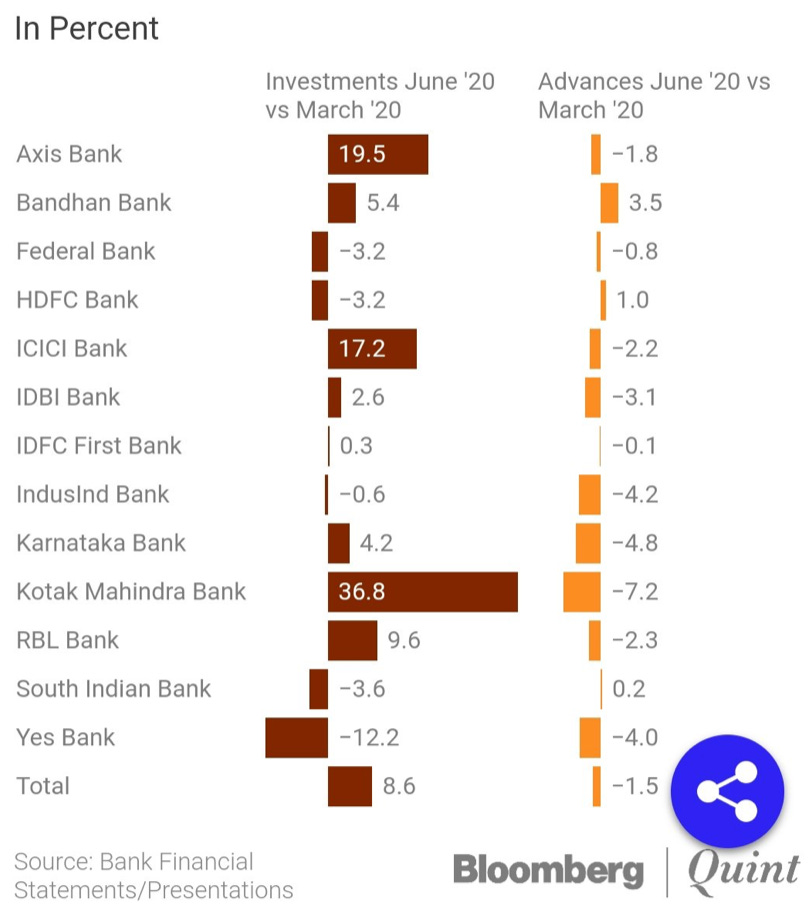 But why are banks doing this?
The current situation doesn't really motivate bankers to lend. With no clue on how moratoriums are going to turn out after it ends next month, banks are essentially playing safe by not doling out fresh loans

So this surplus liquidity has mostly two ways to go - sit on cash or invest!
Where are banks investing?
Corporate securities - easy to manage. Also, RBI had recently introduced a scheme called TLTRO which kind of forced banks to invest in corporate bonds!

Government securities - these are even safer instruments than the above. Thus, it seems that these investments have skyrocketed in the recent past!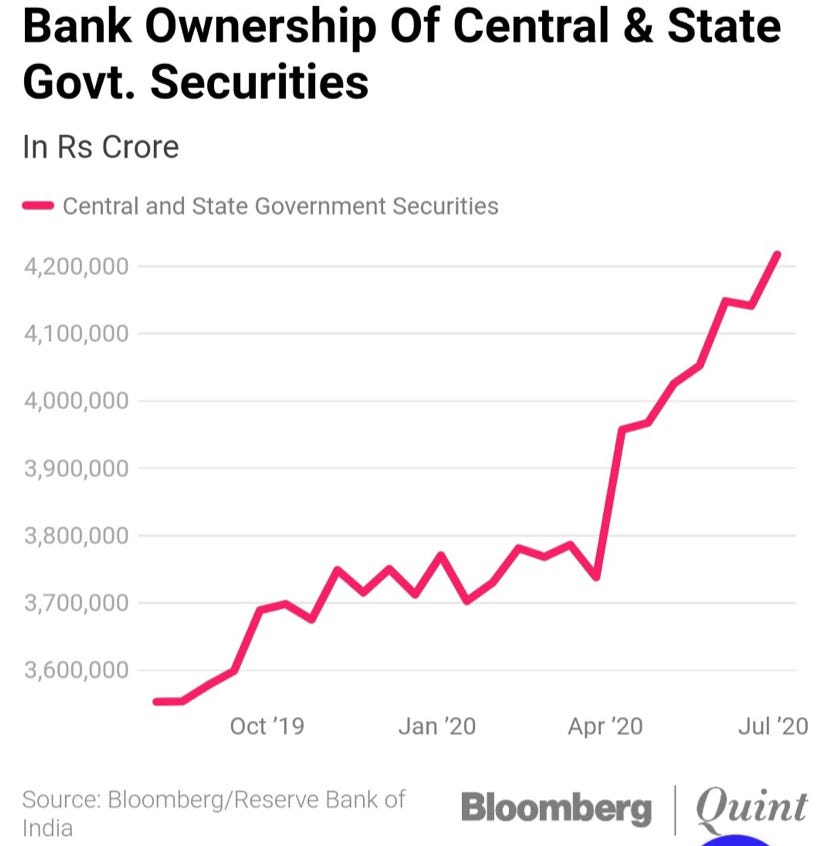 Is this ideal?
Analysts don't think so. Apart from the obvious fact that reluctance to lend by banks further slows down the economy, there are other risks involved in bonds as well - such as market risks (risks that affect the entire financial market) whereas loans mostly only have credit risk (risk of default)
Let's hope that the economy turns and banks can be more optimistic again! They are crucial for our economy!
P.S. A special shout out to Suyash for providing me access to this paywalled piece!
---
What's up with RBI?
RBI Governor speeches are wonderful.
They are widely followed. They are uploaded on the website for everyone to read. They are quoted everywhere.
All this for good measure. Almost every financial institution tries to find something in it for them. Economists try to read between the lines.
For me, it just serves as an insightful read. Consider the latest one which Shaktikanta Das addressed to the CII last Monday.
Instead of talking about gloomy bad loans and moratoriums, he talked about 5 areas in which India has a bright future:
Fortunes Shifting in favour of Farm Sector

Changing Pattern of Energy Production in favour of Renewables

Leveraging IT and Start-ups to spur growth

Shifts in Domestic and Global Supply Chain

Infrastructure as a Force Multiplier for Growth
It's a short read, filled with data you won't find anywhere else and can easily quote to appear smart at your office or institute! You can go through it here to feel motivated. Or read an insightful "realistic" summary here. Suit yourself! 😊
P.S. Sorry for the delay in simplifying the RBI FSR Report! As soon as I get a new laptop (the last one could not be fixed), I'll get on it!
---
Give me some videsi drama
This week, it's Asia.
I read two interesting articles this week, one from Philippines and one from Singapore.
Philippines: Their Government is bringing in an Act (FIST Law) that will absorb the bad assets of banks, kind of what we have here in India called Asset Reconstruction Companies (I have explained it here).
Singapore: Local banks have been advised by the Central Bank to limit dividend payouts at 60% of dividends from the previous financial year. This is mainly being done to conserve cash.
Both these cautionary announcements made me wonder about the bad loan ratios of these two countries. A simple Google search told me that Philippines has an overall NPA ratio of 2.3% whereas Singapore has it even lower - at 1.7%
This further prompted me to dig into NPA ratios of Asia as a whole. This is what I found for South-East Asia (SEA):
Note: White cells denote nonperforming ratio less than 5%, light blue between 5% and 10%, and deep blue higher than 10%. Blank cells mean data are not available.

Now look at South Asia (SA):

A deeper dive into this led me to the following observations:
SEA countries had suffered a huge setback during the 1997 Asian Financial Crisis, post which they had become extremely efficient and rapidly identified and fixed the bad loans in the system

Bank-specific factors are less prone in SEA than SA. For example, a study found that political interference and management competence played a bigger role in countries such as Pakistan! (Similar story in India as well)
This is why I love to study world banking! It offers a lot of insights on what works where and how we can adopt the best practices of other countries! Hope you learnt something too!
P.S. If you fancy knowing about the bad loans of all the countries in the world, you can check that out here. (India comes in the Top 30)
---
Still want more?
Goldman Sachs is in the news again, not exactly for positive reasons. Read this to understand how it is entwined in the 1MDB scandal and this to see how it's CEO was DJ-ing at a party which is under investigation for not maintaining proper distancing!

This week saw two new book releases by a former governor and a former deputy governor of RBI. While the former is acting a bit reserved, the latter is going all out in giving interviews and webinars to promote his book!
---
That's a wrap for the week. What did you think?
Amazing • Good • Okay-ish • Bad
If you want me to cover a particular news, want to get featured, write a guest post or simply say hi, reach out to me at anirudha@bankonbasak.com
In the meantime, tell your friends!
P.S. You can also connect with me on LinkedIN, Twitter (these are two places where I post whatever that interests me) or on Quora (where I try to help people with their queries related to the banking sector).