Discover more from Bank on Basak
A weekly newsletter that attempts to simplify the Indian BFSI space.
Over 4,000 subscribers
What's up with RBI?
Whenever the RBI Governor gives a speech, it excites me and makes me anxious at the same time! Excited because I have content for my blog 🙈 and anxious because I can only hope I do a good job simplifying it. 😬
So here goes.
The RBI Monetary Policy Committee met from 4th-6th August, 2020 behind closed doors to decide what the policy rates are going to be for the next quarter. I had introduced this committee to Bank on Basak readers way back in the #2 episode (scroll down to the RBI section).
This was the 24th meeting since the committee was formed in 2016 (earlier, only RBI folks used to decide the rates, no external members). With this, the committee comes to end of it's four year tenure. Considering the difficulty in finding new external members amidst a crisis, RBI has requested the Government to extend their tenure. For all the nerds out there, I made this Google Sheet so that you can check all the decisions made my this committee chronologically. (Reply to this email with your own insights that you deduced from this data)
So what was the announcement this time? RBI decided to HOLD. So the rates remain unchanged:

Among other things, the committee has a legal mandate to keep the inflation at 4%, with an upper and lower limit of +2%/-2%. If they breach this for three consecutive quarters, they will be answerable to the Government.
Now on a very simplistic level, the repo rate has a direct effect on inflation, which currently stands at 6.09% for June 2020, slightly breaching the upper limit. If they lower the repo rate even by a tiny bit, inflation rises. If they increase it, banks will increase their lending rates (which will trouble borrowers in this environment). So now you know why this entire drama is so delicate and tricky! Also, if you checked the Google Sheet, you'd know hiking rates is not really a common move (done only two times out of 24)
Apart from knowing the policy rate, the document acts as an excellent source to understand what all goes behind setting this rate. For all the other major announcements that came along with the rate announcement, read on.
On Restructuring
So it's finally here. After a lot of rumours doing the rounds, RBI has finally allowed a one-time restructuring for MSMEs, eligible corporates and personal loans.
Why is this a big deal? Because restructuring essentially allows banks and borrowers to modify or re-negotiate the terms of the loan (such as increasing tenure, lowering principal/interest, granting additional loans etc) without having to classify it as an NPA. Although this provides temporary relief, it is detrimental in the long run. Because as soon as the restructuring timeline ends, borrowers start defaulting on their loans and the bad loans suddenly spike up. (This was exactly what happened when it was first announced in 2008)
In order to prevent this, RBI is taking a lot of precautions. For instance, it has created an expert committee headed by K.V. Kamath who will set the financial parameters for this scheme. Kamath holds a a lot of respect in the community and much depends on his recommendations (due within 30 days)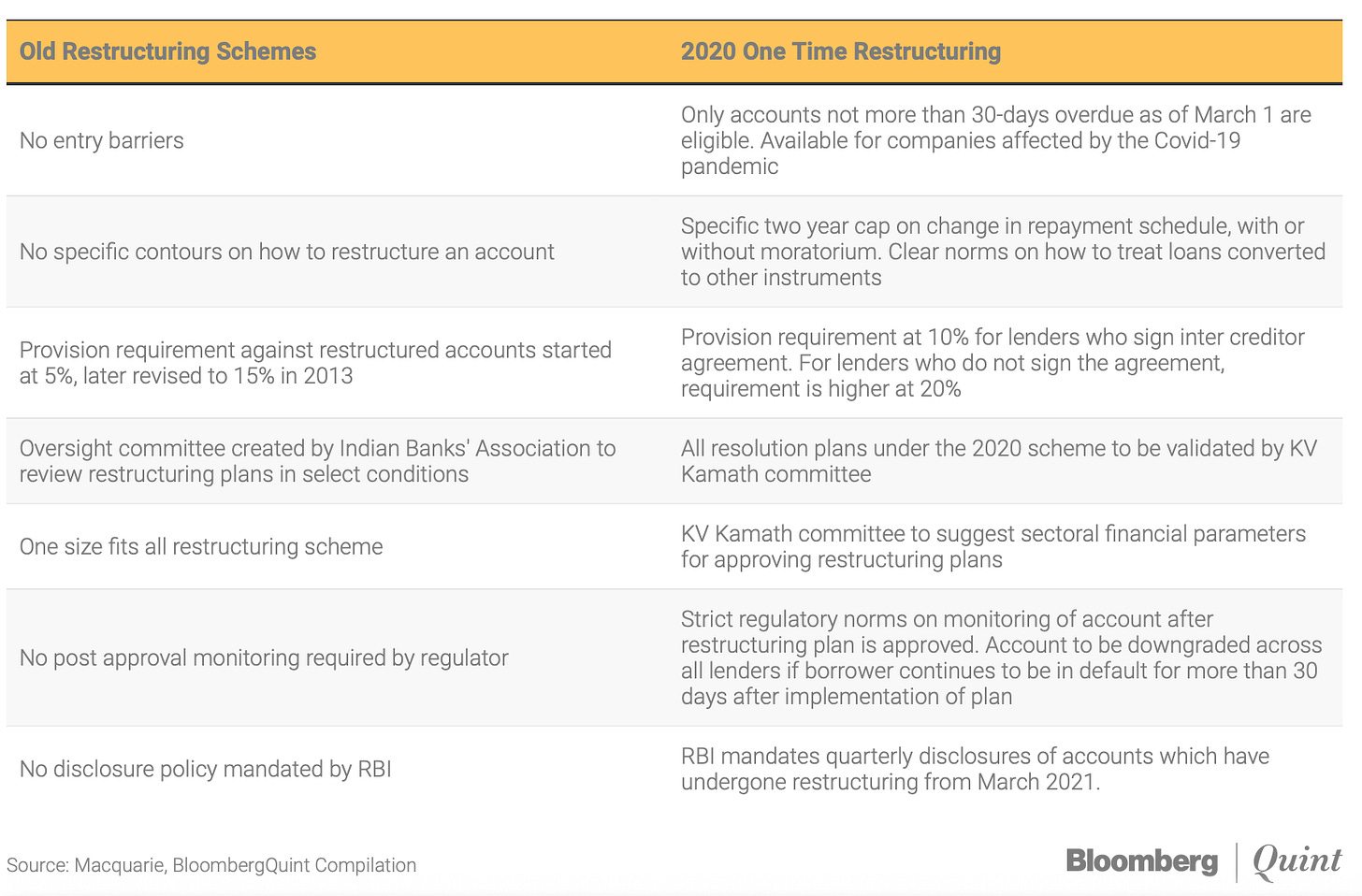 I'll not bore with you the exact contours of this scheme but just note that the MSME restructuring has been going on since 2018 but this is the first time for personal loans. You're eligible if you have not defaulted on your loans for more than 30 days as on March 1, 2020 and you have time till the last day of this year to avail it! If you really need it, go talk to your bank (ultimately they will take the final call).
On Gold Loans
Before we get into this, let us understand LTV first. Loan to Value ratio is simply a technical term to describe the amount of loan that a lender will give you in return for your asset.
For example, till Thursday, the maximum LTV ratio for gold loans was 75% - that means if you mortgage gold worth ₹100, banks and NBFCs (like Muthoot) will only be able to lend you ₹75 against it.
RBI increased this limit to 90% - but only for banks, not for others.

Why did RBI do this?
Most likely it is a desperate measure. RBI wants to increase the bank's ability to dole out larger loans.
Isn't the move risky?
Yes. The central bank is most likely hoping that gold prices will not come down. Because if it does, suddenly the ₹100 worth of gold the bank accepted from the borrower becomes ₹80 in value, but the amount lent was ₹90. Now why would a borrower come back for his gold if this happens? The loan becomes an NPA and the bank is in trouble. Hence 75% is way safer than 90%.
Why was this move only restricted to banks?
Because RBI knows that NBFCs are more aggressive than banks. Even if the maximum limit is 90%, banks may use this judiciously, but the same can't be guaranteed for NBFCs. In fact, complaints are already coming in from Muthoot and Manappuram.
The biggest relief is that this special exemption is only till 31st March, 2021. Let's hope banks play safe and not expose themselves to further risks in the meantime.
On Priority Sector Lending and Start-ups
Banks are a business. There are certain sectors which don't really make sense for them to advance loans because (A) either they're not credit worthy, (B) inaccessible or (C) not well informed. If banks had their way, they would redirect all their energy to sectors which provided the maximum return on investment.
To counter this, we have Priority Sector Lending or PSL. RBI mandates that ~40% of scheduled bank credit should be advanced to these sectors, all of which are highlighted in this FAQ document.
You can check the total (as well as individual) credit extended till June 2020 here: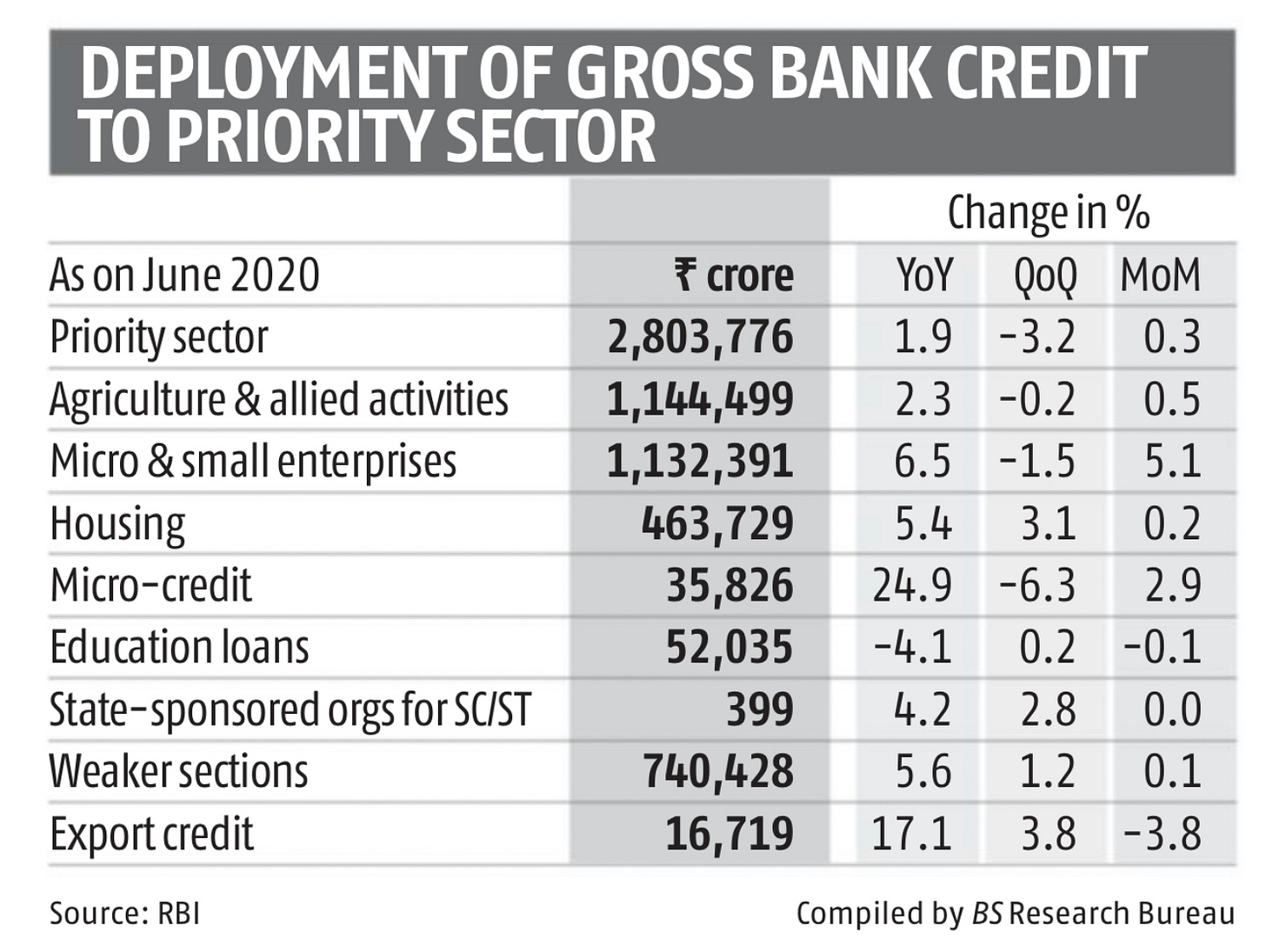 The PSL guidelines hasn't really been changed since 2015. Now, RBI has included start-ups in this list. Recently, the government in it's Aatmanirbhar package had allowed start-ups to be classified as MSMEs.
All of these are slow but steady steps to improve our startup ecosystem so that they have better access to traditional sources of funding rather than always relying on angel/PE/VC investments.
Irrespective of these measures, lending to this sector is considered one of the most risky so it'll be interesting to see how banks address this challenge.
---
On Innovation Hub
In a progressive move, RBI set up an Innovation Hub which will support and promote new technology in areas such as cyber-security, data analytics, delivery platforms and payment services all for the purpose of attaining financial inclusion and more efficient banking services. Although the details and the funds allotted are yet to announced, it is to be noted that this is RBI's second move to promote fintech.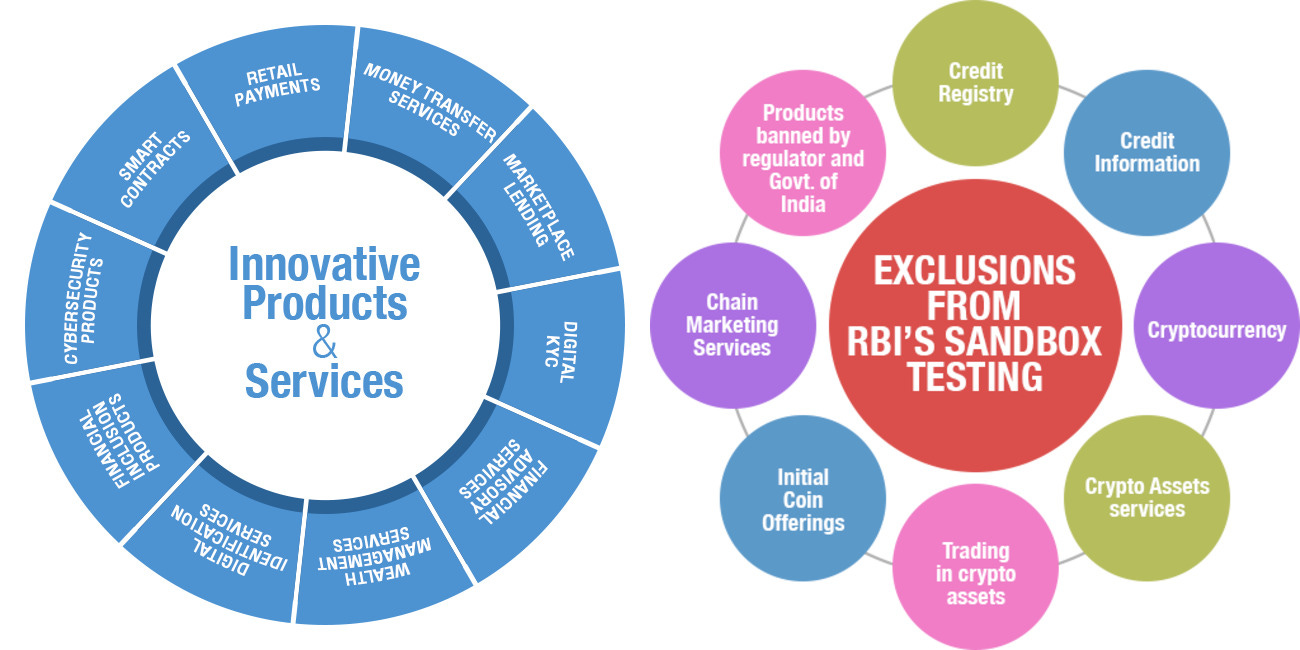 The first one was creating a regulatory sandbox last year, the purpose of which was to offer an environment of live testing of new innovations under a controlled setup. Under the sandbox, RBI can relax regulations so that innovators can have more flexibility. In fact, six proposals were received in the first round of applications, but the trials have been delayed due to coronavirus.
On Payment System Operators (PSOs)
RBI has always pushed for digital payments. So much so that it doesn't want operators to stay restricted to the online medium only (as it massively restricts a huge chunk of the rural population which do not have access to network connectivity), whether pushing for offline QR codes or USSD technology. So now it is conducting a pilot scheme to push for more offline payment methods, where the upper limit for a single txn will be ₹200 and total limit will be ₹2000. Our country reportedly has around 500M feature phone (non-smartphone) users, where this innovation could help bring in financial inclusion. Let's hope NPCI can make USSD as popular as UPI.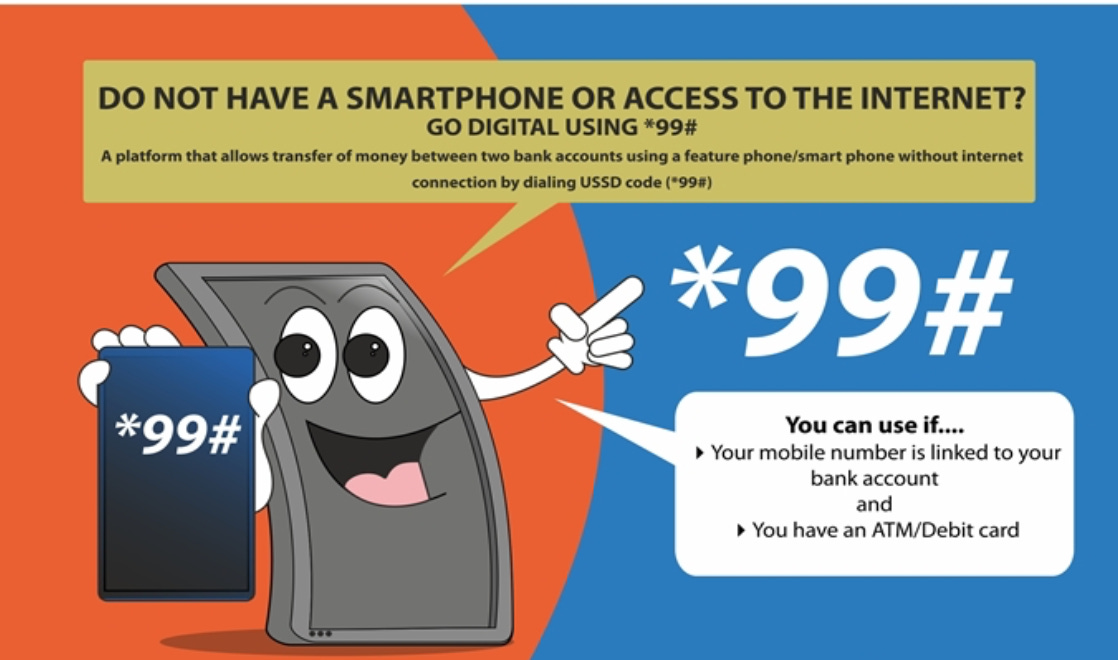 There's also a new Online Dispute Resolution (ODR) to report those pesky UPI and wallet frauds. Moving forward, it'll be extended to irritating failed txns as well!
Other Announcements
RBI revised it's guidelines on opening of current accounts by banks and made it more stringent. You can check out the exact details but the main objective is to bring in credit discipline as it was observed that large borrowers were opening multiple current accounts across different banks to divert funds.

Banks invest in a lot of instruments. Sometimes they invest directly in bonds. Sometimes they do it indirectly through a debt mutual fund. Till the announcement, banks had to set aside a larger amount of capital for debt MF (18%) than if they directly held the same debt instrument (9%). Now, RBI has said that these will be treated at par. So you can expect banks to invest more in debt mutual funds now.

RBI will provide an additional special liquidity facility of ₹10,000Cr - half of it to National Housing Bank (NHB) so that it could lend to cash starved housing finance companies. The other half was given to National Bank for Agriculture and Rural Development (NABARD) mainly for rural economic activity (irrigation and crop financing). Do note that NHB and NABARD had already received ₹10,000Cr and ₹35,000Cr respectively four months ago.
Phew! That was a lot to cover. Monetary Policy is something that affects almost every citizen of the country, even if you don't realise it. As CNBC has rightly pointed out, if our central bank had taken the effort to simplify the language like the Bank of England did here, my job would've been so much easier and we wouldn't need so many different news articles explaining each part of the document. Anyway, I hope this helped in some way! Do share this with someone you think should read it!
---
Give me some
videsi
drama
This week, I'll talk about the tale of two neobanks - while one gets new wings, the other is desperately trying to survive.
Winner Winner Chicken Dinner
Varo Money is being touted as the first consumer-focused fintech player to be granted a bank license. Starting 1st August, it will operate like a full-service bank. In US, the OCC (Office of the Comptroller of the Currency) provides the bank charter. Regulatory approvals are given by FDIC (India's DICGC counterpart) and the Federal Reserve (US central bank).
So why did opt for a licence?
Lot of reasons. For starters, you don't need to pay commission to your partner bank anymore. You don't have to rely on it's archaic architecture. You don't need to ask permission for every new product that you're thinking of launching. Just for fun, go have a look at the website of Varo's former partner bank. Now check Varo's. Even you would've want a friend like that.
This is an important milestone, considering traditional banks have largely opposed fintech companies' applications for charters (for obvious reasons). It shows that regulators are finally taking notice of their importance in the financial inclusion system as well.
Image: Varo Money (left) and Monzo (right)
Going Concern…
While Varo got a new life, I'm sad reading about Monzo's fate. Usually all the headlines I had read about this company started like. "Monzo raised another round of funding from…". The young neobank with over 4.4M customers had a sombre message in it's annual report:
"The Directors recognise there are material uncertainties that cast significant doubt upon the Group's ability to continue as a going concern."
It basically means that the management feels the company is not going to survive. So what went wrong?
Credit losses. The neobank has been really bad at managing losses from it's loans. (1/5th of it's loan book is either in default or high risk category). Compliance with regulations are an added cost. The third cost is increased capital requirements from the Bank of England. (UK's central bank)
Look, I really liked Monzo's success story. It'll be a shame if it has to wind up within 3 years of starting.
---
What else happened this week?
---
That's a wrap for the week. What did you think?
Amazing • Good • Okay-ish • Bad
If you want me to cover a particular news, want to get featured, write a guest post or simply say hi, reach out to me at anirudha@bankonbasak.com
In the meantime, tell your friends!
P.S. You can also connect with me on LinkedIN, Twitter (these are two places where I post whatever that interests me) or on Quora (where I try to help people with their queries related to the banking sector).
Boring, yet an important disclaimer: Views/opinions expressed in this article are solely my own and not of my employer.