Discover more from Bank on Basak
A weekly newsletter that attempts to simplify the Indian BFSI space.
Over 4,000 subscribers
All the small guys…
It's the season of Q2 (July-Sep) results again. I'll be looking at ignored banks and try to understand where they're going right (or wrong).
This week, we'll try to simplify Federal Bank.
With a tiny market share of ~1%, this private bank doesn't even come up in the news that often. However, did you know that the bank has the 4th highest debit card spend across all other private banks? It comes right after ICICI, HDFC and Axis. (Yes, its more than Kotak Bank!)

I had to dig through the Annual Report to find answers to this. A few things stood out:
It was the 5th bank in the country to introduce Debit Card EMI (in partnership with Pine Labs). This is mostly because they do not have/promote credit cards at all.

It has over 75+ campaigns and partnerships with leading brands like Flipkart, BMS, Amazon etc. Partnerships provide better visibility and brand recall.

I figure their "Celesta" card for HNIs is driving a lot of spends, since this Scheme has generated over 1100 accounts (and ~₹500 Cr) for the bank.
What is their overall strategy?
Their debit card strategy, although might seem trivial, actually speaks volumes about their overall bank strategy as well.
The lack of credit cards is actually indicative of their conservative nature. As mentioned by MD & CEO, Mr. Shyam Srinivasan in a recent interview, they do not focus on unsecured (without collateral) loans at all. This is why their NPA ratios are pretty low as well (0.99% Net NPA as on 30.09.2020, can you believe it? This is lower than top private banks in the country)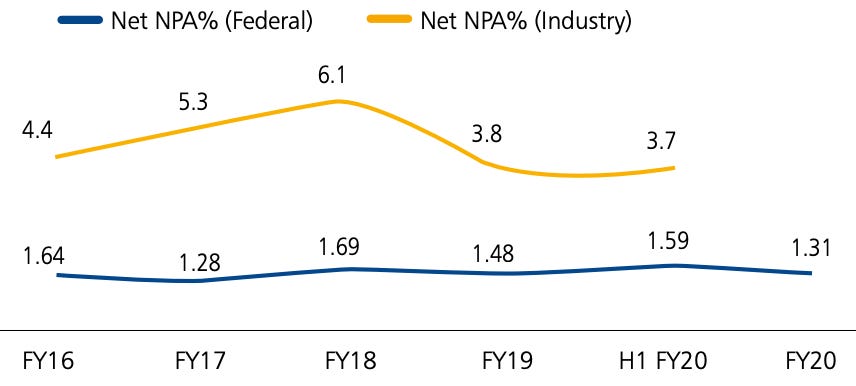 They're so conservative that they focus more on ETB (existing to bank) than NTB (new to bank) customers. The premise is simple. It is difficult to evaluate the credit profile of new customers. On the other hand, it is easier to cross-sell other products to existing customers on whom they already have a ton of information about.
For example, suppose you own their debit card. Based on your transaction history, they can offer you a loan if they think you're a credit-worthy customer.
But is this a good strategy?
Generally, conservatism implies slower growth. Look at the growth in their branches. It has been stagnant for over 5 years now.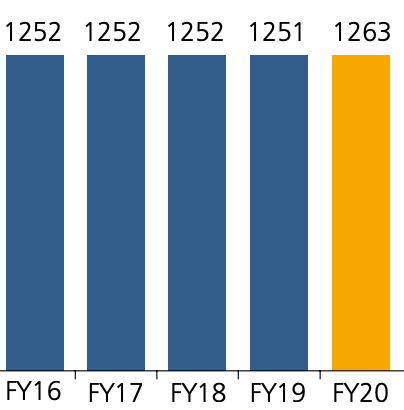 If you take their business, it has been growing at a meagre ~1%.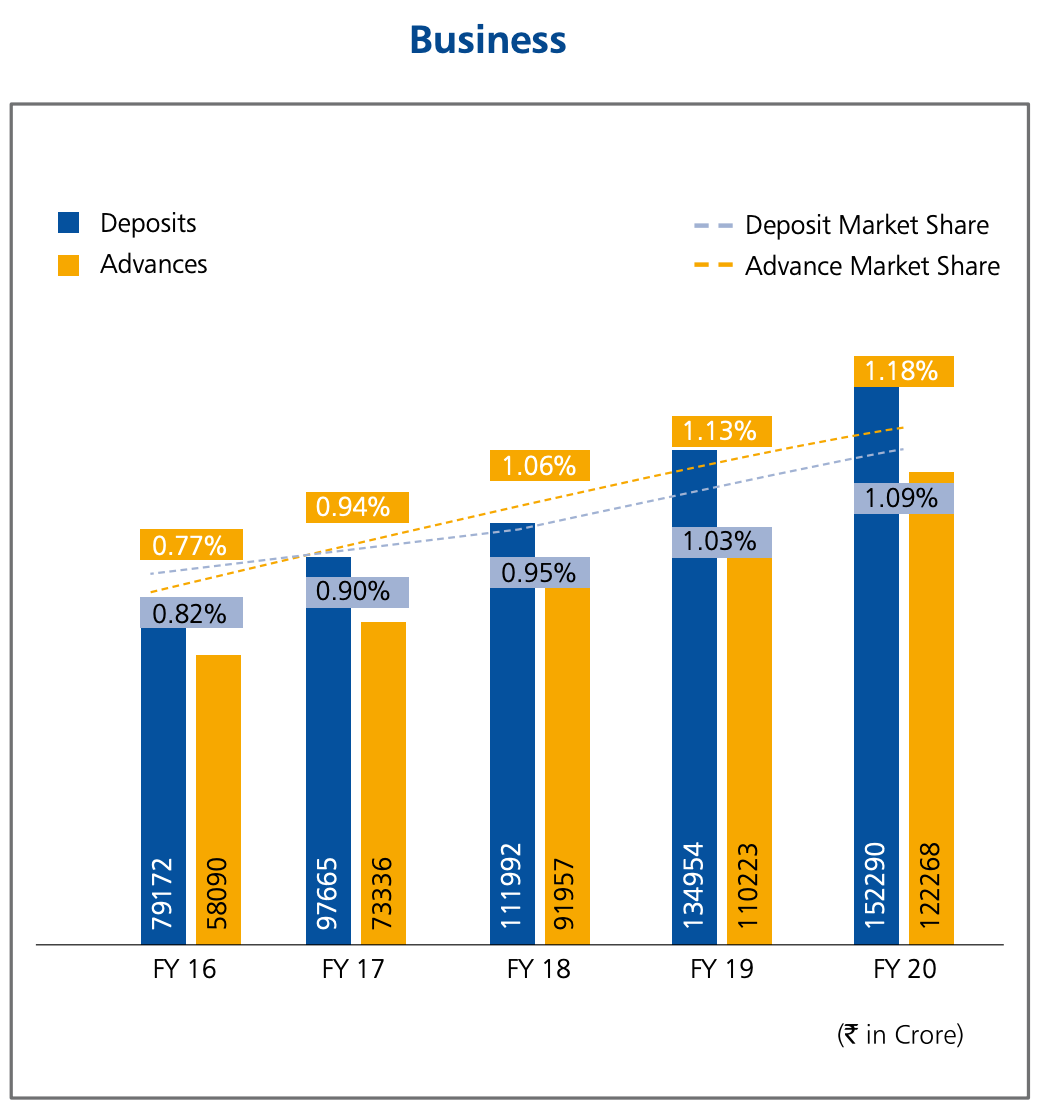 Moreover, this is the first bank that I have observed which has made a clear distinction between their home market (Kerala) and Rest of India.
I came to know about this through their latest presentation. In fact, its only last year that the bank has been on this journey of "Presence to Prominence" in certain chosen geographies and "Presence to Dominance" in their home market.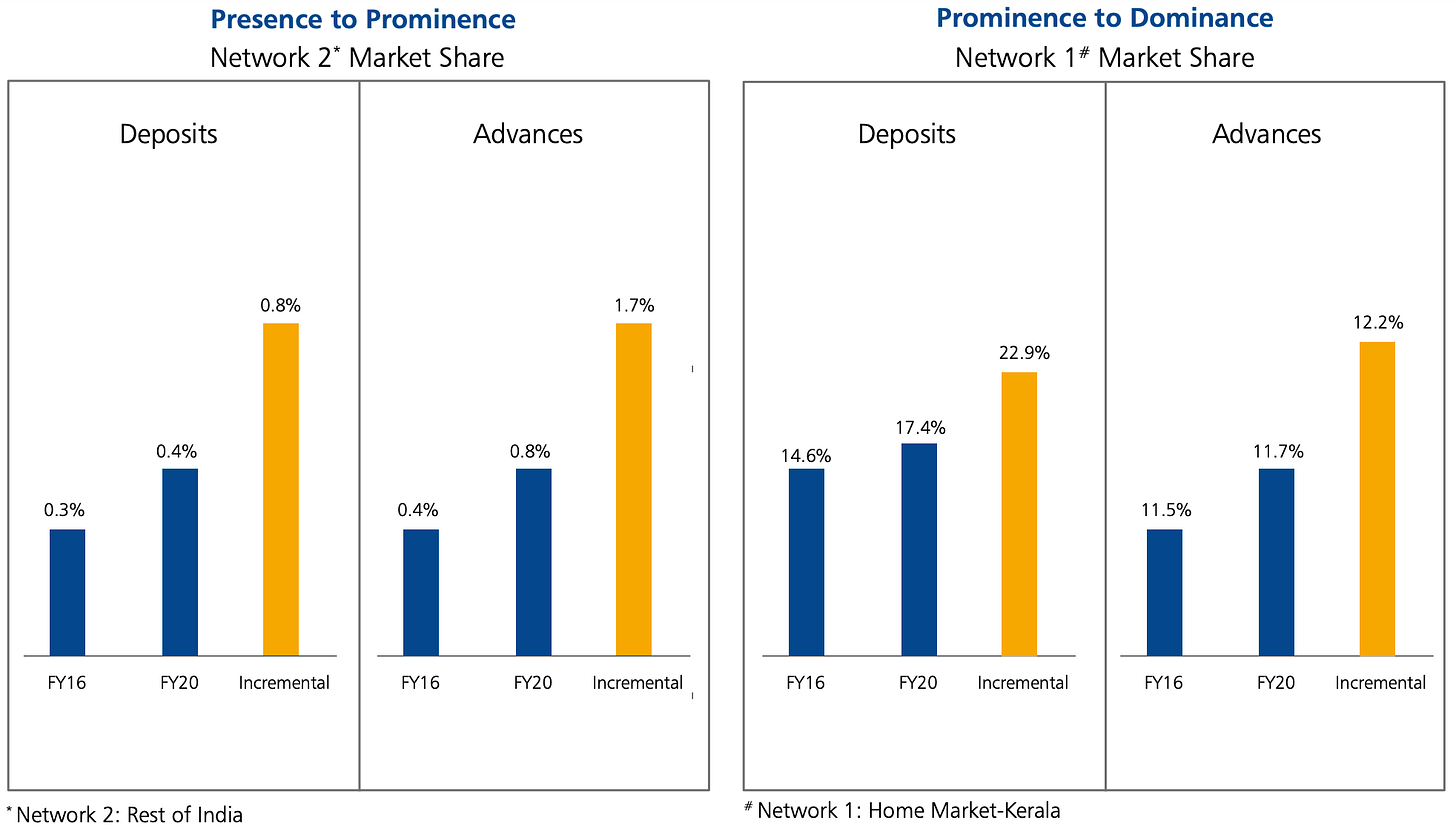 This two-tier approach to growth is smart, but conservative. As you can clearly see in the image above, incremental growth in markets where they're not comfortable are tiny (~1%) compared to the growth in Kerala (~22% and 12%).
So what are they doing right?
Digital-first approach: The high push for mobile and online banking has allowed them to route most of their transactions (a whopping 85%) through digital channels only. Maybe this is why they haven't really opened any new branches in the last couple of years.

Focus on Gold Loans: This segment grew 10% in Q1 and 24% in Q2. Even from the MD's interviews, it's clearly obvious that they love this segment. With gold prices rising, ease of distribution, affinity for gold in their home market - all of this has made it fairly inexpensive for them to disburse these. Coupled with a growing deposit base, their operating profit (Profit without the provisions for bad loans) has increased 40% y-o-y!
Closing note
Q3 (Oct-Dec) would provide a much better picture if the bank's conservatism really pays off. I'll keep you posted and hope you learnt something new today. :)
---
What's up with RBI?
Last week, we covered some heavy stuff from the central bank.
So for today, let's keep it light.
RBI has recently hired a new Deputy Governor - Shri M. Rajeshwar Rao.
Shri Rao was Executive Director of the Reserve Bank before being elevated to the post of Deputy Governor. So technically, that made him an "insider". Any external hires nominated for these hot seats are termed "outsiders".
This made me remember a two month old piece from Mint.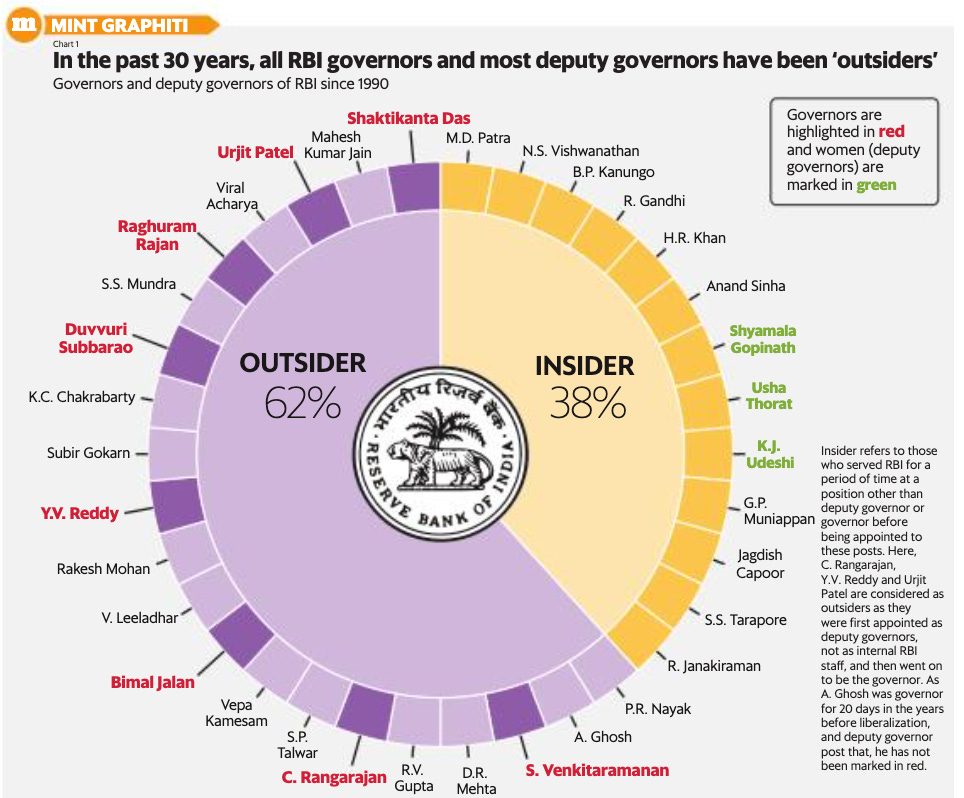 The graph reveals a lot. But you should read the full story too. Let me know your observations?
---
Give me some videsi drama
Last week, I talked about Morgan Stanley.
I had also asked if you would like to read something similar on Goldman Sachs and a lot of you responded in the affirmative.
Let's get on it.
Do note that the purpose of covering these individual banks is to understand strategy from a specific point of time. If you want a deep-dive into Goldman's history, you can read this book or watch this quick 24 minute video.
Just like Morgan Stanley (MS), Goldman also suffered huge losses during the 2008 financial crisis. In fact, Warren Buffett had come forward to bail out the bank with an investment of $5B.
However, unlike MS, it did not majorly focus on wealth management right at the outset.
To understand this better, let's observe this excellent infographic from the Financial Times.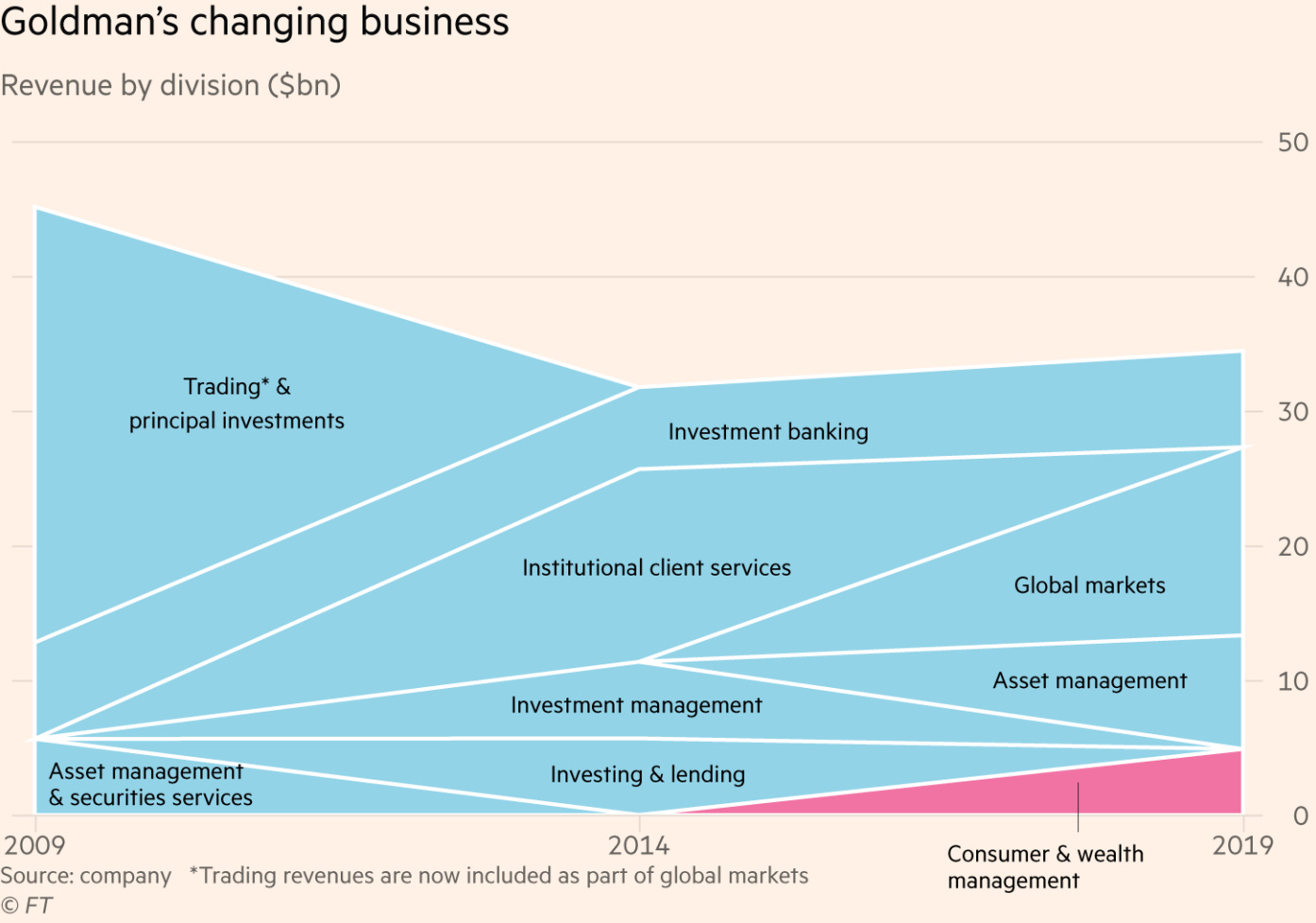 If you think the company curtailed its trading division like MS, you're mistaken. They simply renamed the division to Global Markets, which still make up a chunk of their revenue.
Over the years, it has tried to change its image, with trivial things such as ditching the formals for a pair of jeans to fundamental things like focusing on individual divisions.
If you see the pink graph above, a distinct entry of a division has been Consumer & Wealth Management.
It has been making acquisitions and partnerships to build this segment.
Last year, it acquired United Capital (wealth management firm) for $750M. Notice how it has used that acquisition to fit its strategy: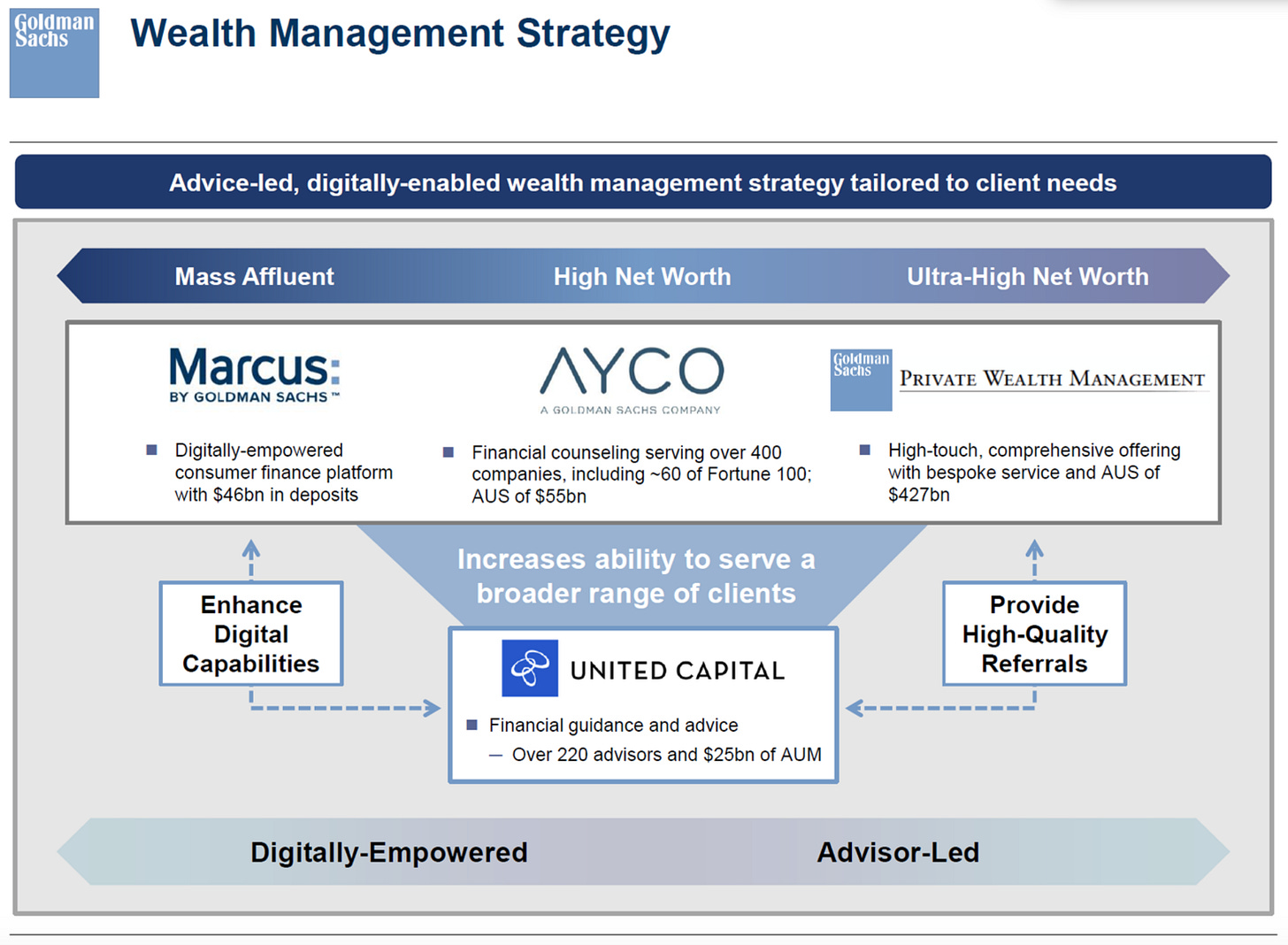 It is trying to capture the entire spectrum of clients from the mass to the super rich. In fact, it all started in 2016 with the launch of its retail brand Marcus (named after the founder). Two years later, it bought Clarity Money, a personal finance start-up. Nobody really knew what it did with that acquisition, until now. As of 2020, Goldman has launched Marcus Insights - a free financial management tool where you can link all your accounts to get a full picture of your finances.
These are all the offerings under the Marcus brand: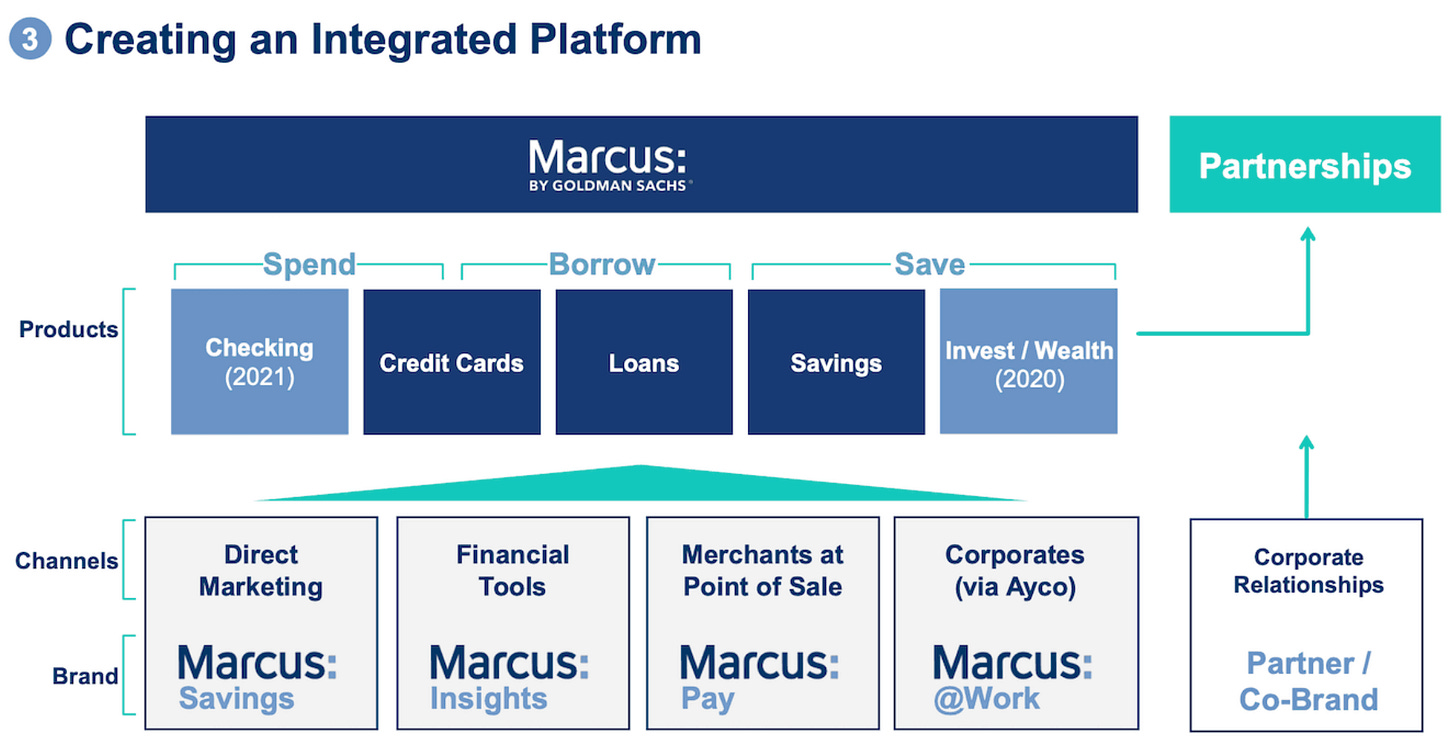 Over the years, Goldman has indeed innovated, however, they are on a bedrock of strategies which were already present since the 80's.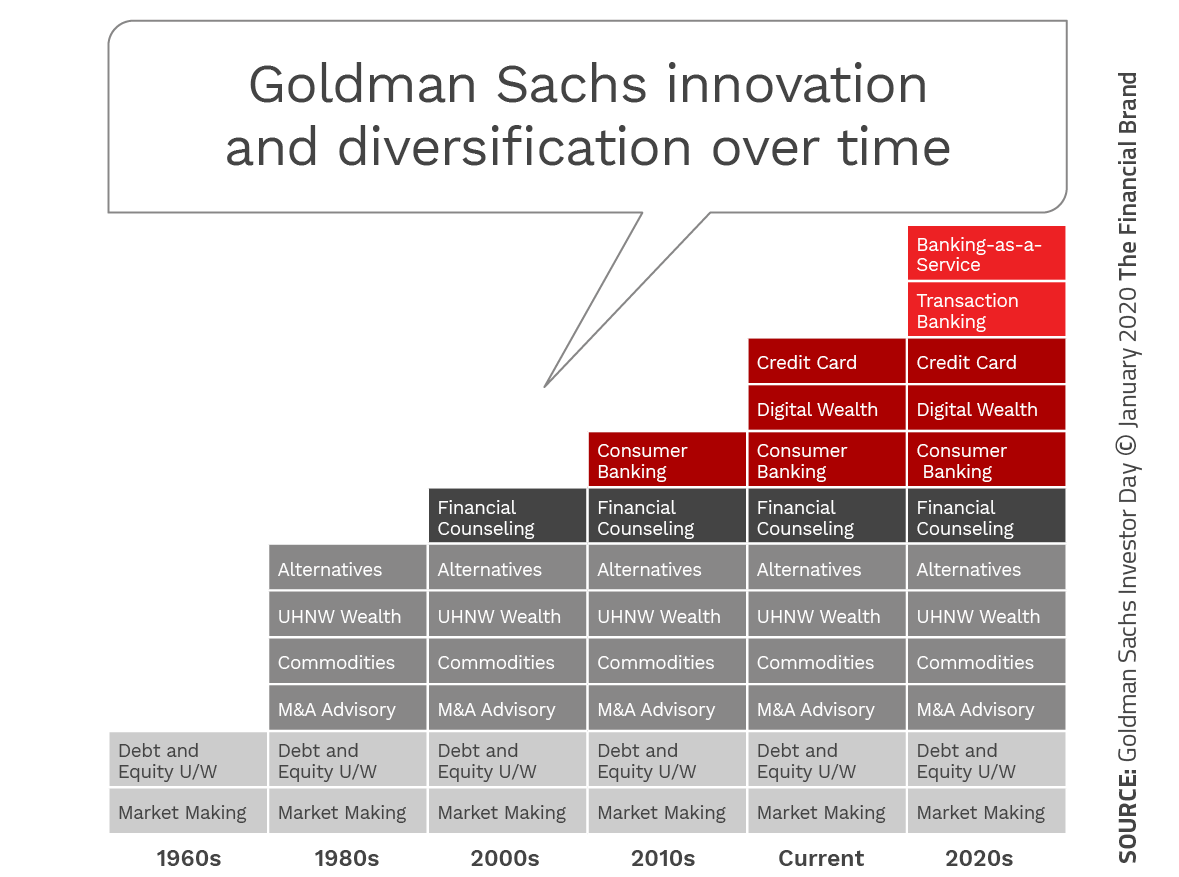 Consider deposits, for example. Being a bank catering to consumer needs, it only has about ~$260B in deposits. Compared to this, JP Morgan has over $2T.
Its other bets didn't quite garner the attention it was looking for.
The Apple Card is Goldman's most high-profile consumer play. Infamous among Goldman's tech team for gobbling up resources from other projects, the card quickly served up a swift lesson in how not to do business. When it was launched in August, male customers took to Twitter to complain that they were given higher credit limits — in some cases allegedly 20 times higher — than their wives. That inspired an investigation by New York's financial services department. - FT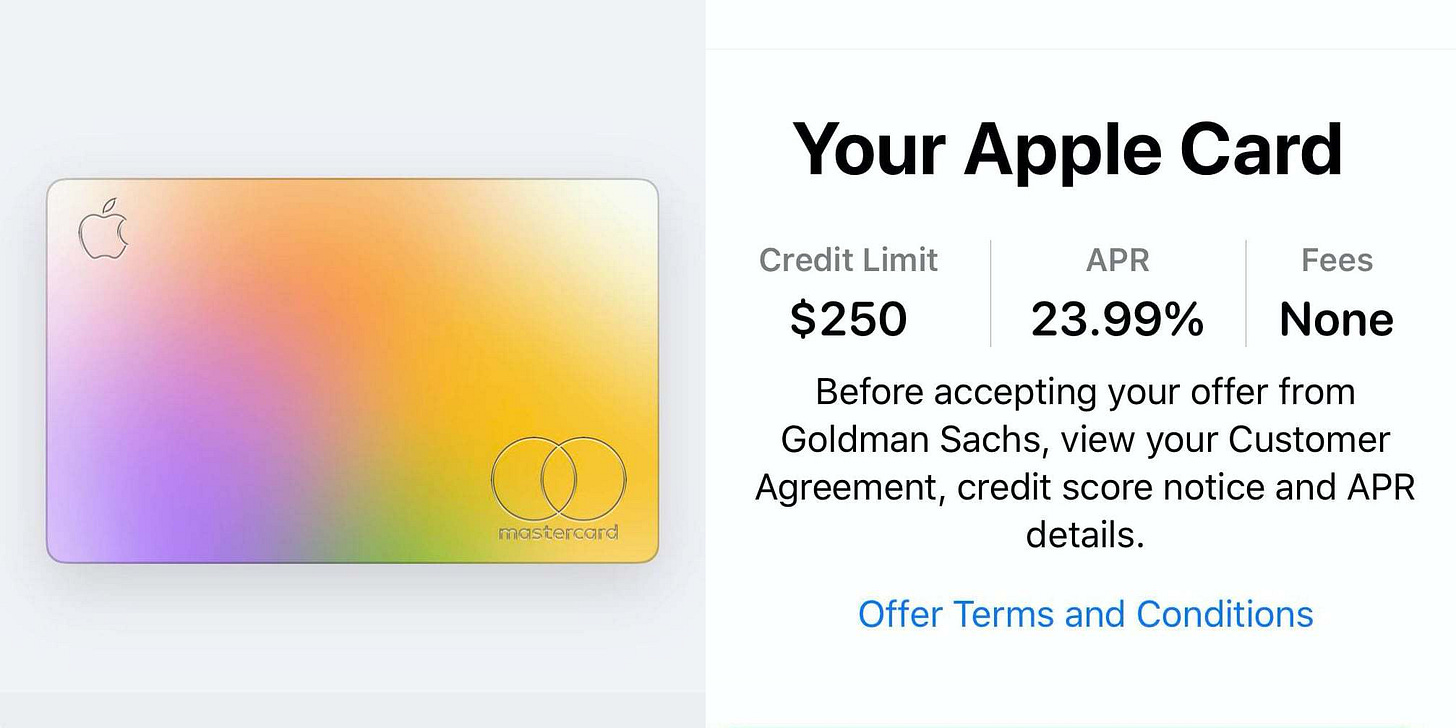 I feel CEO David Solomon (who is also a part-time DJ) juggles quite often between pitching his bank as a consumer one and a traditional investment one when it suits his needs.
Will it be able to come out with a true picture in the near future?
---
What else happened this week?
International
Each week, I try to highlight racial and gender discrimination/upliftment in banking. It seems the bank that I covered last week, Morgan Stanley, is piloting a program to recruit Black talent in its sales and trading division. Open for up to 20 people only now, one of the Managing Directors at the bank said that he hopes the program, if successful, will be replicated across the firm's institutional securities business. Feedback has been promising, with over 700 applications.
National
We might have the biggest job opening that you could possibly have for banks - Dhanlaxmi Bank is looking for a CEO. (Read this to understand why). The ad reads: "The candidate should be a leader of exceptional integrity, who will be able to steer the Bank to greater heights without compromising its unique heritage, while also implementing its vision and mission." Sounds fun. Want to apply?

Bank of Baroda could have 50% of it's staff working from home permanently. This is big for a public bank. Also, the bank has entered into a partnership with Mahindra and Mahindra for the tractor finance business. How does it help M&M? - more tractor sales. How does it help the bank? - boost in its agri business. It seems it is really pushing towards a diversified agri-loan book portfolio through dairy SHG (self-help group) and FPO (farmer producer organisations).
---
That's it for this week.
Reach out to me at anirudha@bankonbasak.com, my LinkedIN or Twitter. Meanwhile, share this around?
All views and opinions shared in this article and throughout this blog solely represent that of the author and not his employer. Since the author is employed by a bank, he has consciously chosen not to report any news related to his company to avoid conflicts of interest. All information shared here will contain source links to establish that the author is not sharing any material non-public information to his readers. His opinion or remarks on any news are based on the assumption that the source is genuine, thus he is not liable for any information that may turn out to be incorrect. This blog is purely for educational purposes and no part of it should be treated as investment advice. Using any portion of the article without context and proper authorisation will ensue legal action.